WORRALS CARRIES ON
First Published in October 1942 - 143 pages
Although this was in fact the third Worrals book published (in time), it contains the second Worrals story. This is because the story in Worrals Carries On first appeared as a serialisation in the Girl's Own Paper between October 1941 and September 1942. The second Worrals book published in September 1942, Worrals Flies Again, contained a story that had been serialised in Girl's Own Paper between October 1942 and December 1943 and from the content, it is clear that it was written after Worrals Carries On.
Click here to see the original illustrations from the very first printing of the story in the "Girl's Own Paper"
<![if !vml]>
<![endif]>
The original first edition dust jacket – showing the original book price of 4/6.
<![if !vml]>
<![endif]>
The 1948 edition dust jacket – showing the original book price of 6 shillings.
WORRALS CARRIES ON
CHAPTERS
Click on any chapter for a summary of the events in that chapter or see the general story summary below
IX – CAPTAIN CHARLES IS WARNED
XI – CHALLENGE TO STORM TROOPERS
Worrals and Frecks are counting their squadron's aeroplanes home after a mission and one is missing. A Belgian pilot called Joudrier flew the missing plane and he eventually returns to the aerodrome very late. Worrals examines his plane and finds a geranium leaf stuck to it, a type only found in the South of France. Joudrier's story is that he had a spot of engine trouble and had to stop at Shoreham. Worrals checks out his story. He did stop at Shoreham but only for a very short time and certainly not as long as he said he did. Worrals also checks his petrol and finds its has a yellowish tint, like German fuel, and not the bluish tint of British fuel. Suspicious, Worrals and Frecks follow Joudrier's car to London and follow him to the Green Parrot Dance Hall. An air raid forces them inside where they see Joudrier with another man - and he sees them. Both men are then followed to an abandoned warehouse of the Bonanzo Ice Cream Company. Here Joudrier speaks Italian and the girls witness a murder. After running away, they are captured by Major Gray of the British Intelligence Service. Released, they return to their aerodrome, only to come across Joudrier again. The following day, our heroines have to take an old Reliant aircraft to the Aircraft Park and use the opportunity to follow Joudrier when he goes flying in his aircraft. The weather is appalling and the wind strong. Before they know it, the girls have engine trouble and are forced to land - to their astonishment, they find themselves in France! By wandering away from their plane in the mist, they are soon lost and have to go to an Estaminet, or local Cafe, to ask for directions. Here the barmaid and a mysterious French peasant, known as "Captain Charles" helps them. They are taken to the local Church Crypt where the padre, Father Giraldus is hiding a dozen or so British soldiers, mainly ones who have escaped from Dunkirk. One of them is a fitter for Merlin engines and Worrals enlists his help to fix their aircraft. The Padre shows them the way back to the aircraft and the fitter, Tim, mends the engine. Just in time, Worrals, Frecks and Tim escape from the Germans. Chased by Messerschmitts, Worrals is saved on reaching the English coast by Bill. Returning to brief her C.O., Squadron Leader McNavish, Worrals finds Major Gray with him. Worrals insists on keeping a promise she made to the soldiers in the Church Crypt and persuades her superiors to let her go back to France. Parachuting out of a plane flown by Bill, Worrals and Frecks have to arrange to fly everybody to safety. Worrals sneaks into the Estaminet and tries to attract the attention of Captain Charles. With the help of the barmaid she gets a message to Captain Charles before nearly being caught by the Germans. They have Stormtroopers everywhere. Returning to the Church and meeting up again with the Padre, Worrals and Frecks have to hide when the Germans call. It is soon clear that everybody will have to escape, including Captain Charles and the barmaid, whose name is Suzette. Worrals comes up with a plan that will get them all out and capture Joudrier as well. Worrals steals a lorry to load everybody aboard. In a desperate race against time, Worrals takes everybody to meet Bill who has flown over in a Havelock to pick them all up.
Click here to see the story illustrations from the FIRST EDITION of this book
Click here to see the story illustrations from the 1950 "New Illustrated Edition" of this book
<![if !vml]>
<![endif]>
French edition – Un Exploit de Worrals (A Feat of Worrals) – this had 9 internal illustrations
Click here to see the story illustrations from the 1951 French Edition of this book
Frontispiece
Click on the picture below to see it in more detail
<![if !vml]>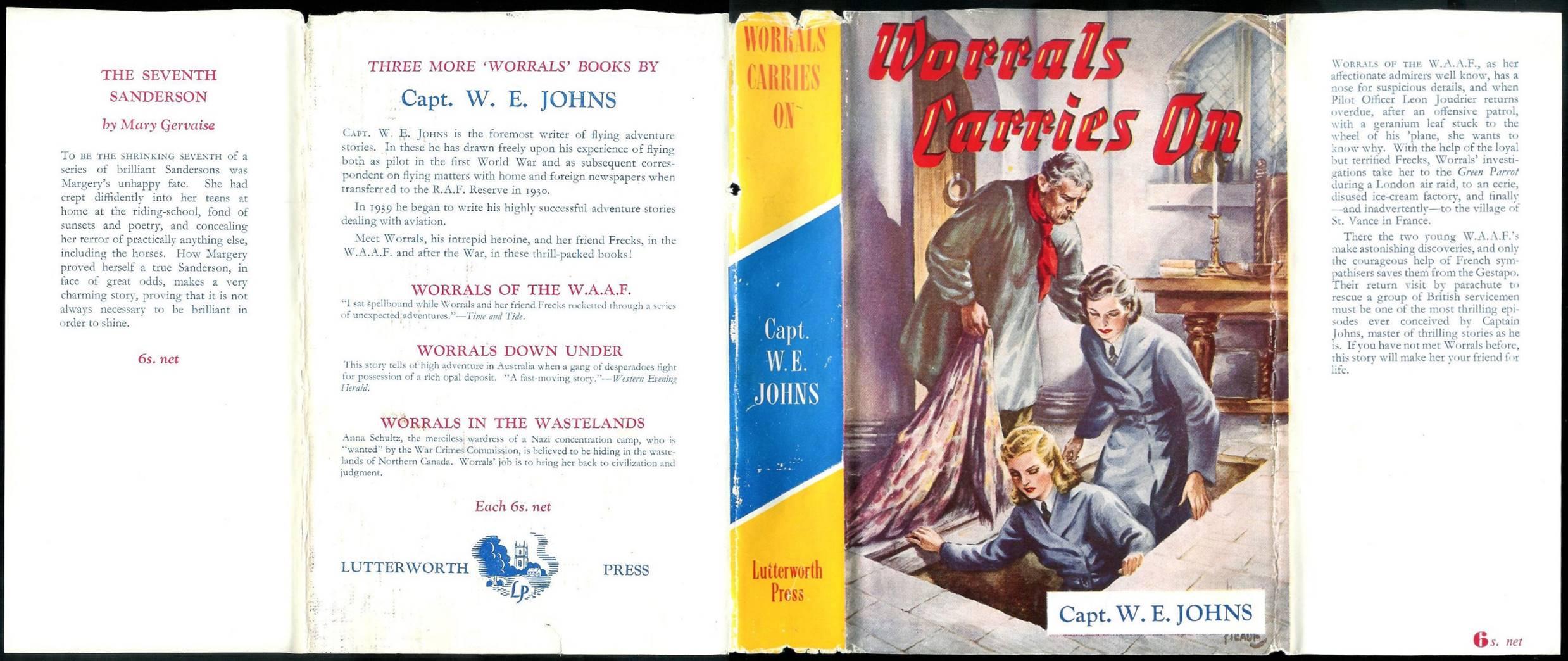 <![endif]>
Worrals Carries On
Subtitle - none
Publication Details - published by Lutterworth Press