WORRALS - THREE SHORT STORIES
These three Worrals stories never appeared in the eleven Worrals books
WORRALS TAKES A HAND
First Published in 'The Children's Gift Book' in 1946 - 25 pages
(Subsequently collected and published by Norman Wright in 'Winged Justice and other uncollected stories' in 2001)
Worrals investigates the disappearance of her friend Frecks. Worrals flies to Najula in East Africa and meets a man named Batson from Equatorial Airways. Frecks had previously flown out in her own plane to work for the company as they were advertising for pilots with their own planes. Batson has lost four pilots in three months shipping gold for the Nova Mining Corporation at Situri. Worrals agrees to fly for the company and flies out to Situri. Meeting a man called Lane, he insists on flying back with Worrals and two of his companions. One of them, Tyson, pulls a gun on Worrals in mid-air and forces her to land in the Maratovo Reserve. This is a diamond-bearing region owned by the Government, where nobody is allowed. Landing, Worrals finds that a local native, called Sam, is holding Frecks and two of the other pilots prisoner. Worrals puts water in the fuel tank of her plane to stop the villains escaping because Tyson is actually a pilot, even though he has a drink problem. Lane is going to shoot Worrals but a detachment of the African Rifles arrives and arrests the bad guys. Worrals had made arrangements in advance, before agreeing to fly for the company, and had arranged a signalling system to give her position.
<![if !vml]>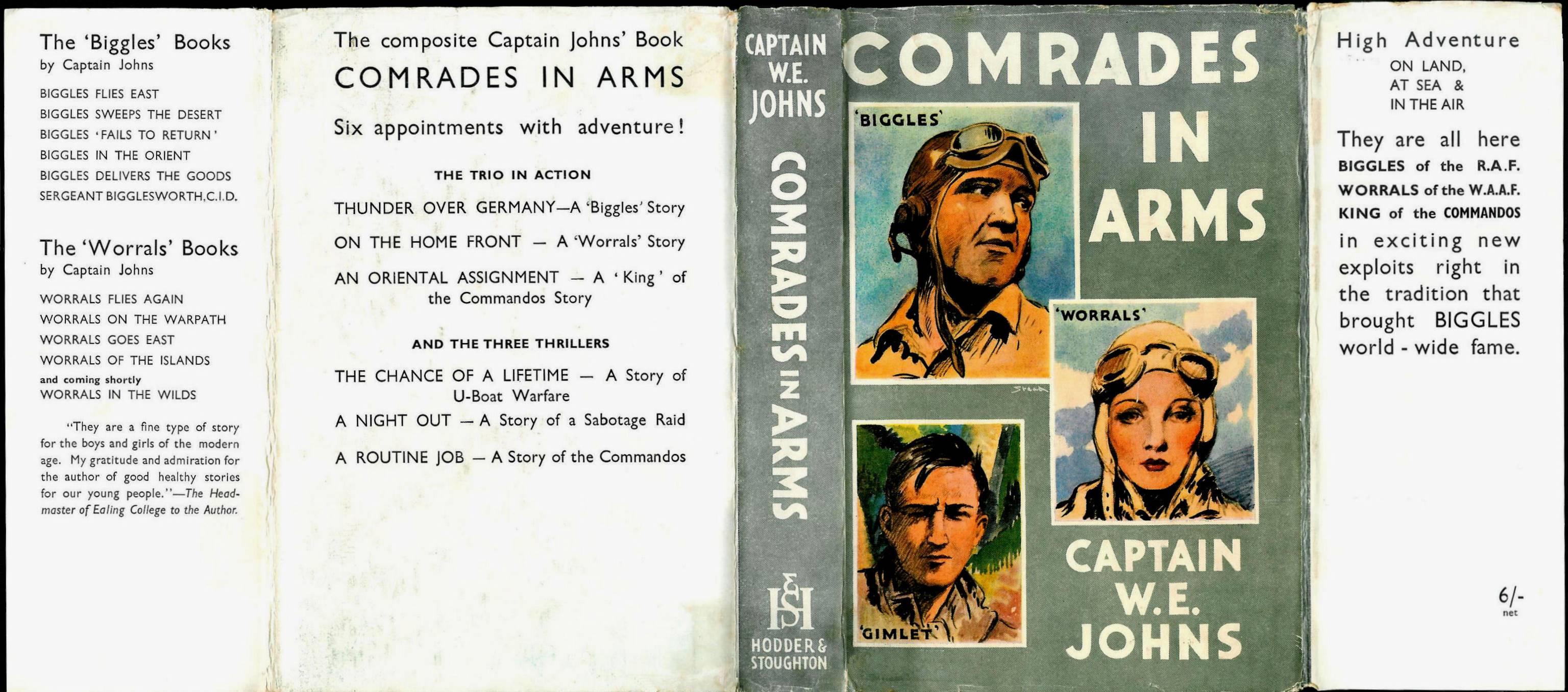 <![endif]>
First Edition - Published by Odhams Press Ltd, London 1946 - 320 pages
ON THE HOME FRONT
First Published in 'Comrades in Arms' in August 1947 - 40 pages
Worrals is sent to investigate the story of Aircraftwoman Norma Day, whose friend Doris Marchant has been found drowned. They both worked on a barrage balloon and had witnessed strange things happening, particularly when a piece of their balloon had appeared to 'break off'. Doris had been investigating alone when she disappeared and was later found drowned in the river. Worrals works out the direction of the prevailing winds and flies around to investigate the lie of the land. Frecks sees something suspicious at a nearby mansion house, Gresham Grange, and the girls decide to concentrate further enquiries there. Investigating the supposedly abandoned house at night, Worrals and Frecks take Norma with them, to act as look out. They see a German plane fly over the house and also what appears to be some sort of signal. Later a balloon is released from the top of the house. Sending for help, Worrals and Frecks unexpectedly find themselves in a confrontation when four men are seen with a car. The men are speaking in German. Worrals shoots out the tyres on the car, to stop the men escaping. A gun battle takes place and Worrals and Frecks retreat to the river, which has bricked up sides. Frecks is injured and both girls end up in the river. After being swept downstream, Worrals is able to get Frecks out, only to be confronted by one of the Germans with a gun. Norma Day shoots him dead just as Air Commodore Raymond arrives with reinforcements to catch the spies.
<![if !vml]>
<![endif]>
First Edition
WORRALS WORKS IT OUT
First Published in 'Girls Own Paper' in September 1947
<![if !vml]>
<![endif]><![if !vml]>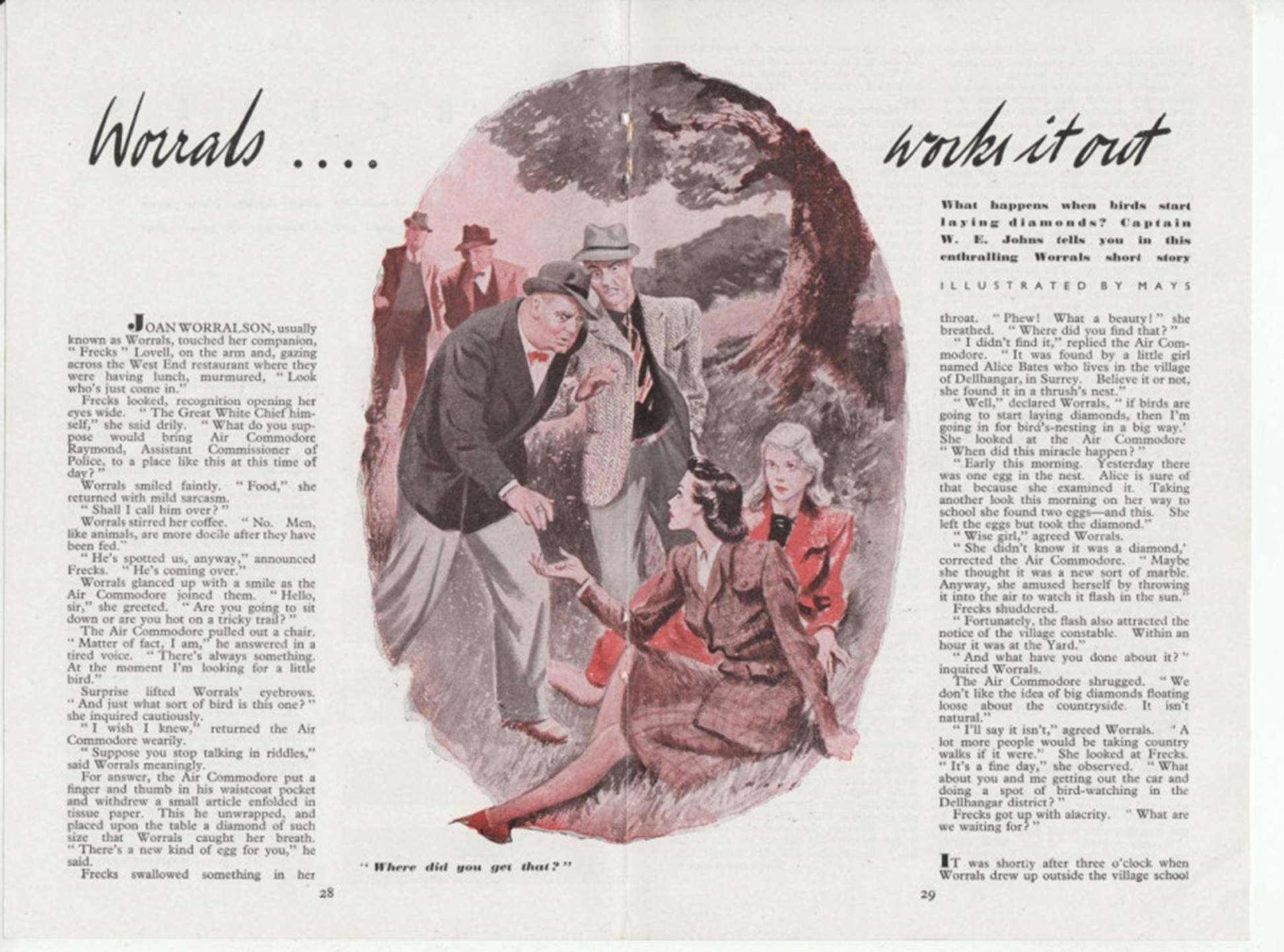 <![endif]>
(Subsequently collected and published by Norman Wright in 'Winged Justice and other uncollected stories' in 2001 – 9 pages)
Worrals is asked by Air Commodore Raymond to investigate the finding of a valuable diamond in a bird's nest. It was found by a schoolgirl called Alice Bates who takes Worrals and Frecks to the relevant location. Finding a miniature home made parachute in a tree, Worrals guesses that jewels have been dropped from an aircraft to evade customs. Two men arrive and commence a search, obviously looking for the jewels. It is a simple matter to have them arrested. This story was rewritten by W. E. Johns and published in 'Stirring Stories for Girls' in 1960 as 'Pearls and Primroses' with the two lead characters becoming police officer Margaret Robertson and her assistant Jill Peters. Biggles fans will also recognise the same story, rewritten again and published in 'Biggles Flies to Work' in 1963 as 'The Case of the Early Boy'.
First Edition of Norman Wright's collected stories